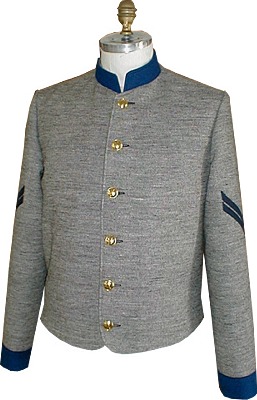 Although issued to many units in the Army of Tennessee, the Columbus Depot jackets are often referred to as the Orphan Brigade Jacket. From research to date, all jackets issued had either the Medium blue collar and cuffs or were without any trim color. So... if you portray Cavalry or Artillery and wish to use this jacket, the medium Blue trim color or no trim colors is the correct pattern.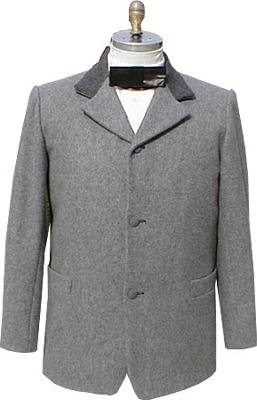 A civilian sack coat in grey or black would be differnt, and is very under represented on the field today.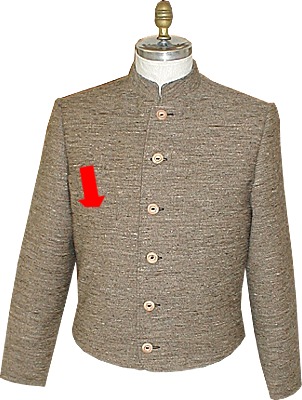 This jacket, in jean wool like the one pictured above, should be the most represented in a western cavalry outfit.
The red arrow points to an external pocket.
Trousers
Warning !
Do not buy "Confederate Mounted Trousers"
They were never produced !
Here is an example of a brown jean wool issue trousers. This style in grey or brown would have been very common.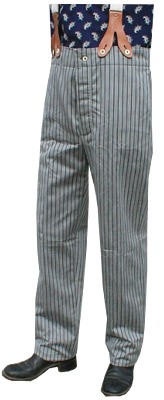 Civilan trousers would have perhaps out numbered issue or "captured". They can be striped or solid, linen, jean wool, or regular wool.
Boots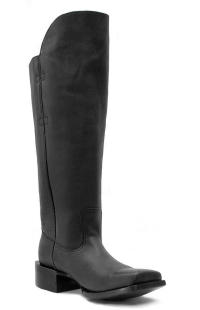 This is the classic one piece front 1860's cavalry boot.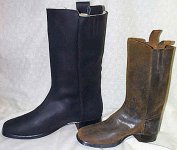 This is an artillery boot, an accepatable alternative to the tall cavalry boot. The advantages are that it is lighter and generally cheaper. Note the one piece front.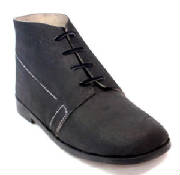 Finally, an all to often overlooked option is the Brogan. Confederate cavalry were probaly issued these in a ratio of 2 to 1 over cavalry boots. The advantages are they are very authentic, cheaper than boots and usually more comfortable. The dis advantage is that your shin is unprotected from the horse next to you .
Hats
Here are a few hats common on the battlefield.
Felt Gambler Hat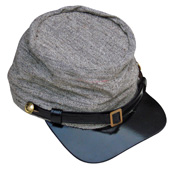 Jean Wool Kepi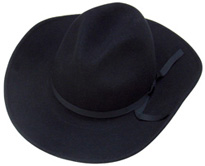 Enlisted Slouch Hat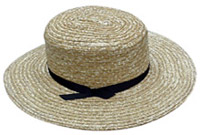 Straw Hat